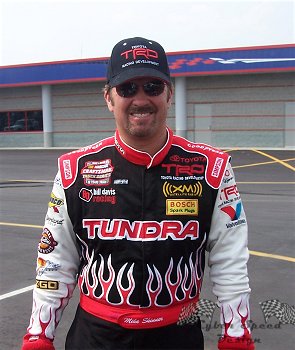 Date of Birth: June 28, 1957 Hometown: Ontario, Calif. (raised in Susanville, Calif.)
Residence: Daytona Beach, Fla.
Ht/Wt.: 6'0"/200 lbs.
Wife: Angela (married Nov. 25, 2000)
Children: Sons Jamie (11/22/77) and Dustin (4/20/85)
Hobbies: Golf, billiards
Skinner Review:
Mike Skinner's rise to greatness is unlike that of most past NASCAR Craftsman Truck Series Champions. Growing up in Ontario, Calif., he did not have the resources that most NASCAR racers had in the South. He did not get behind the wheel of a race car until 1976 at Susanville Speedway, a half-mile dirt track in California. From that moment, he knew he wanted to make racing his career.
After winning his third track championship at Susanville in 1976, Skinner decided that he needed to move east to race against the best of the best. He competed with other NASCAR hopefuls in the Carolinas and Virginia trying to get his big break. His hard work paid off, and he received his first NASCAR Cup Series ride at Martinsville Speedway on April 27, 1986, at the age of 28.
It took another nine years for Skinner to get another chance to race full-time in one of NASCAR's top series. Skinner was named the driver of the No. 3 GM Goodwrench truck in 1995, the inaugural year of the NASCAR Craftsman Truck Series. Skinner won the first race of the season at Phoenix International Raceway, and his fellow competitors immediately knew he would be a force to be reckoned with every weekend. Skinner went on to post eight wins, 17 top-five finishes, and 18 top-10 finishes en route to winning the first NASCAR Craftsman Truck Series Championship.
In 1997, Skinner was named the driver of the No. 31 car for Richard Childress Racing in the NASCAR Cup Series. That year, Skinner posted three top-10 finishes and swept the pole at both events at Daytona International Speedway. Skinner was named the 1997 Winston Cup Rookie of the Year.
Skinner drove the No. 31 car until 2001, compiling 38 top-10 finishes and winning back-to-back NASCAR exhibition races in Japan (1997 and 1998). Skinner won his Gatorade 125-mile qualifying race at Daytona International Speedway in 2001.
In 2002, Skinner moved to the No. 4 Kodak car. He had a solid year and posted a top-10 finish at North Carolina Speedway.
Skinner substituted for injured driver Jerry Nadeau in the No. 01 U.S. Army car in 2003 and scored a pole at Richmond International Raceway in September.
Skinner returned to the Craftsman Truck Series in 2004 driving a Toyota Tundra. He knew Toyota had the best resources and losing was not an option, which was a personal motto he had held close to his heart. It was a perfect fit. Skinner posted four top-five finishes, nine top-10 finishes and finished 11th in the year-end point standings.
Since competing in the final nine races of 2004 Craftsman Truck Series season under the Bill Davis Racing umbrella, Skinner seems to anticipate the 2005 season more than anyone else. Skinner is excited to compete in his first full season behind the wheel of the No. 5 Toyota Tundra for BDR.
Skinner is poised to win the championship in 2005. He knows he has the best manufacturer in Toyota, which is willing to give him whatever he needs to win. He has a great organization in BDR, which is committed to winning no matter the cost. With that combination, the former champion will be one to look for up front this year.

UMI is proud to present "Turning Points" by Angela Skinner, wife of NASCAR driver Mike Skinner. "Turning Points" is a collection of defining moments in the lives of NASCAR superstars - those life lessons that shape who we are and teach us about overcoming challenges and reaching our goals. This special book is only $19.95. Shipping and handling is free.
Click here to order Turning Points
or call 800-747-9287.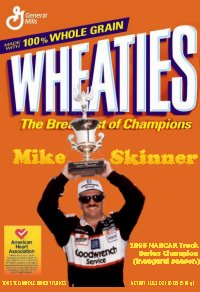 «
?
Nascar Sites
#
»