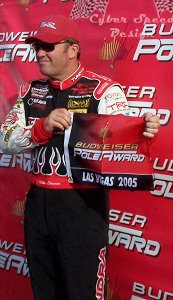 Four Tundras finished among the top-five in Saturday afternoon's NASCAR Craftsman Truck Series (NCTS) race at Mansfield Motorsports Speedway in Ohio. Tundra drivers Jack Sprague (second), David Starr (third), Johnny Benson (fourth) and Joey Miller (fifth) crossed the finish line behind race-winner Ron Hornaday in the 250-lap event at the Ohio short track.
The second-place finish by Sprague was his best result of the year, and rookie Joey Miller's fifth-place was his first-ever top-five.
"My Tundra was really good today -- a lot better than I anticipated it would be during the race," said Sprague, following the race. "It got hot and slippery -- and that's just what I needed to get my Tundra running good. Ron (Hornaday) was really good and I needed to have long runs to get close to him. In the end, I was never able to catch him, but it was still a great day."
Starr battled Sprague most of the afternoon for position, but was never able to pass him. "I thought I was a little better than Jack (Sprague), but I just couldn't get by him," said Starr, after the race. "I could cut up underneath him, but just couldn't get by him without putting a fender to him or bumping him. He's a good friend of mine and a Toyota teammate -- and I wanted to pass him clean. I almost got him coming to the white flag, but I had to get off of it because there was a lapped truck down low."
The race began with pole-sitter Todd Bodine running away from the field in his Germain Racing Tundra. He led the first 117 laps before pitting for tires and fuel, and then his teammate Ted Musgrave led a pair of laps before also pitting. Bodine and Musgrave were never able to catch the leaders again after making their pit stops and finished 15th (Bodine) and 16th (Musgrave).
Other results for Tundra drivers were David Reutimann (ninth), Bill Lester (24th) and Mike Skinner (29th).
Friday evening's qualifying session was cancelled due to rain and the starting line-up was determined by the championship point standings – leaving Tundra drivers Todd Bodine (first), Ted Musgrave (second) and David Reutimann in the top three spots.
The next race on the NASCAR Craftsman Truck Series is at Delaware's Dover International Speedway, June 2.

2006 Season Stats
Position : 18
+/- : --
Points : 691
Behind : -449
Starts : 7
Wins : --
Top 5 : 1
Top 10 : 2

UMI is proud to present "Turning Points" by Angela Skinner, wife of NASCAR driver Mike Skinner. "Turning Points" is a collection of defining moments in the lives of NASCAR superstars - those life lessons that shape who we are and teach us about overcoming challenges and reaching our goals. This special book is only $19.95. Shipping and handling is free.
Click here to order Turning Points
or call 800-747-9287.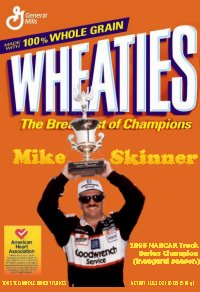 «
?
Nascar Sites
#
»